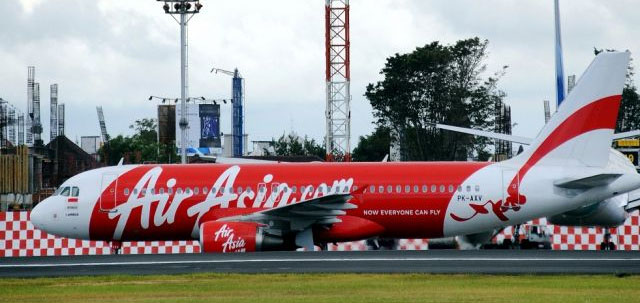 The disappearance of Air Asia Flight QZ8501 carrying 162 people en route to Singapore from Surabaya remains a mystery, with aviation experts on Sunday saying that bad weather was the most probable factor behind the incident.The experts' claim is in line with the statement made by the Indonesian Meteorology, Climatology, and Geophysics Agency (BMKG), which confirmed that waters around Bangka Belitung, where the plane lost contact with air traffic control in Jakarta, were heavily covered by cumulonimbus clouds, a type of cumulus cloud associated with thunder storms and heavy precipitation.
"If a pilot insists on going through such a cloud, it could damage the body of the airplane. The best thing to do in such situation is to get off the traffic path. The pilot made the right decision in doing this after seeing the cloud on the radar, but we don't know what happened after the pilot made the request," aviation expert Air Chief Marshal (ret) Chappy Hakim said on Sunday.
He added that only the plane's black box could reveal the exact cause of the disappearance of the plane, which was declared missing by the Transportation Ministry at 7:55 a.m. on Sunday.
Another aviation expert and former investigator at the National Transportation Safety Committee (KNKT), Hanna Simatupang, said cumulonimbus clouds were very dangerous to aircraft, but experienced pilots could deal with them.
AirAsia said the aircraft's pilot Capt. Iriyanto had booked 20,537 hours of flying experience, of which around 6,053 were with his current company.
"With such a record, I believe the pilot could handle such a difficult situation, but one question remains: What other factors led him to decide to leave the flying path apart from avoiding the cloud? We need to know as many as factors as possible to get a better understanding of the incident," Hanna said.
There may also have been something wrong with the aircraft as its emergency locator transmitter (ELT) did not send any emergency signal to the aviation authorities and the National Search and Rescue Team (Basarnas).
"That means there's something wrong with the aircraft," Hanna added.
She said aviation firms and the authorities in Indonesia still did not uphold a "safety first" policy to ensure everything was fine before takeoff.
"We have to acknowledge that we still lack skilled human resources in this sector. The authorities should fix this problem. Safety first principles are not yet upheld in this country because aviation still sees profit as the priority,"
Hanna said.
She further said that high operational and maintenance costs also contributed to the failures of aviation companies to place safety as the first priority.
"This situation decreases their sense of togetherness to provide better safety because they are all profit-oriented. This happens not only in Indonesia but in other countries too," Hanna said.
BKMG spokesman Heru Djatmiko said Indonesia had unique weather challenges, which made it different to other countries.
He said that other countries also had cumulonimbus clouds, but the ones in Indonesia were far stronger than those in other countries.
"In other countries, cumulonimbus clouds usually exist from a minimum 30,000 feet to a maximum 40,000 feet. But in Indonesia, they can reach 50,000 feet," Heru said on Sunday night.
He also spoke of other unique weather challenges in Indonesia, like the Barubu or Foehn winds, which frequently hit the Makassar region in September.