Article
Garuda Indonesia: How to Win People's Trust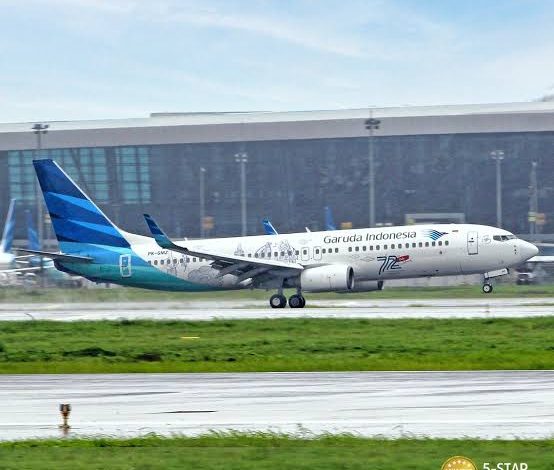 Pagi ini , saya turunkan artikel tentang Garuda yang dimuat di Jakarta Post hari ini, tangggal 16 Desember 2009.
Chappy Hakim , Jakarta | Wed, 12/16/2009 10:01 AM | Opinion
National flag carrier, Garuda Indonesia, has been able to resume flight to Europe since July 14, 2009. On the other hand, due to continuous efforts to improve its services and countless of successes achieved in the last couple of years, Garuda Indonesia eventually won the "2009 Best of the Best CEO" award and the "2009 Dream Corporation" award for the transportation category.
However, despite those outstanding achievements and continuous attempts to re-exist in the international stage, some "minor" accidents, yet very disturbing, have occurred recently.
On Dec. 9, 2009, Garuda's Boeing 737-400 with tail no: PK-GWT, failed to take off from Polonia Airport in Medan, North Sumatra, to Jakarta. Unconfirmed reports said that the pilot aborted the take-off due to engine failure.
Before that, on Dec. 7, 2009 there was news about the aircraft Boeing 737 Garuda – flight number GA 652 – which hard landed in Denpasar, Bali, and caused further flight delay to Papua.
Not long after that, there was another incident, where a Garuda aircraft whose tires were "left out" or fell as the plane took off. The incident forced the B-737 to return to base.
Some said, within closed time-frame, there was another incident where engines flame-out has happened from another Garuda's B-747.
From all the series of minor incidents, yet very potential to become fatal accidents, there was no official explanation from Garuda Indonesia's office that explains in full details, comprehensive and final, what was really going on with this national flag carrier which also has been the national pride and the public's sweetheart.
Garuda Indonesia, which formally carries the flag of Republic of Indonesia, actually right now is facing serious problems.
The series of accidents that have occurred, although they were considerably minor incidents, in general happened due to the exposure of weaknesses in technical aspect of aircraft maintenance.
Luckily all those incidents have been well solved due to the quality of its pilots which at this moment are being well-maintained in terms of its quality requirements.
It seems all of Garuda's pilots are still within the international standard of quality in terms of handling flight emergency procedures.
The pride of Indonesian people towards the country's oldest airlines and the carrier of the nation's symbol should therefore be maintained in an excellent manner.
Serious attention in many aspects related to the development of an airline specifically and the national aviation industry in general, must be preserved at all time.
The leader of an airline organization, whether it's an official government airline or state-owned, should – without compromise – provide the flight safety. And this commitment must be possessed by those who are involved in the aviation business.
There was an incident – a disturbing one – last week, when the official sport contingent which includes athletes, trainers and officials that represent the country and their nation in the 25th SEA Games departed to Laos using an airline which was not Garuda Indonesia!
It feels that there was no pride within the soul of our boys who were in the middle of a struggle that requires the support from the thunderous patriotism feeling to fight in the sports arena.
In fact, they flew with an airplane which was not "Garuda the Flag Carrier", the real bearer of the Red and White!
A view which gives the sense that Garuda Indonesia, at this very moment is no longer "the best airline" in Indonesia. Garuda Indonesia has been conquered by its rival in its own home.
If it's explored more deeply about Garuda Indonesia, there are really no reasons at all for any causes that can make this airline to be the last. There are no reasons at all for Garuda to be defeated by rivals in its own home, except, if the authority and the people who lack the attention on their own flag carrier.
Too bad, because until this very moment, based on my observation, only Garuda whose organizational structure and working mechanism that has the capacity that closely meets the "international flight safety requirements".
To be in a condition like what Garuda Indonesia has now is indeed very hard to achieve, considering the complexity of an airline management system which must always promote "safety", instead of obtaining short-term profit just like managing retail businesses.
The writer is retired Air Chief Marshal Chappy Hakim and former chairman of the National Team for the Evaluation of Transportation Safety and Security. He is an Aviation Safety Observer.