Article
Inilah Nama-Nama Menteri di Kabinet Baru………..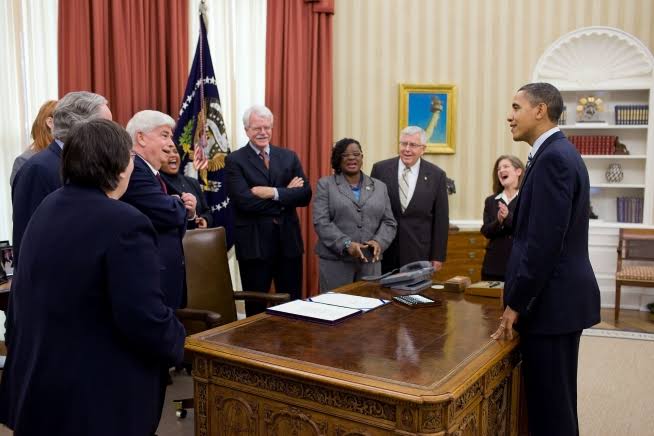 Issue tentang nama-nama menteri dalam kabinet baru yang akan dibentuk oleh Presiden SBY telah menjadi top issue yang tengah dinanti-nanti oleh masyarakat banyak di hari-hari belakangan ini. Demikian pula tentang apakah akan terjadi penyesuaian jumlah departemen yang akan datang , cukup banyak pula diperbincangkan. Walaupun sudah ada pernyataan dari pihak yang berkompeten tentang hal ini, bahwa penyederhanaan Departemen kiranya tidak akan terjadi, mengingat tidak mudahnya hal tersebut dapat dilakukan. Seperti diketahui, jumlah Menteri dalam kabinet saat ini adalah sebanyak 36 orang.
Tidak untuk membandingkannya, akan tetapi mungkin bagus juga untuk diketahui, nama-nama menteri di kabinet baru…………. yang dibentuk oleh Presiden Obama belum lama ini.
Inilah Nama-nama Menteri di Kabinet Baru bentukan Presiden Obama :
1. Department of State
Secretary Hillary Rodham Clinton
2. Department of the Treasury
Secretary Timothy F. Geithner
3. Department of Defense
Secretary Robert M. Gates
4. Department of Justice
Attorney General Eric H. Holder, Jr.
5. Department of the Interior
Secretary Kenneth L. Salazar
6. Department of Agriculture
Secretary Thomas J. Vilsack
7. Department of Commerce
Secretary Gary F. Locke
8. Department of Labor
Secretary Hilda L. Solis
9. Department of Health and Human Services
Secretary Kathleen Sebelius
10. Department of Housing and Urban Development
Secretary Shaun L.S. Donovan
11. Department of Transportation
Secretary Raymond L. LaHood
12. Department of Energy
Secretary Steven Chu
13. Department of Education
Secretary Arne Duncan
14. Department of Veterans Affairs
Secretary Eric K. Shinseki
15. Department of Homeland Security
Secretary Janet A. Napolitano
Berikut ini jabatan yang disamakan dengan jabatan Menteri :
1. Council of Economic Advisers
Chair Christina Romer
2. Environmental Protection Agency
Administrator Lisa P. Jackson
3. Office of Management & Budget
Director Peter R. Orszag
4. United States Trade Representative
Ambassador Ronald Kirk
5. United States Ambassador to the United Nations
Ambassador Susan Rice
6. White House Chief of Staff
Rahm I. Emanuel
Jadi di Amerika, kabinetnya hanya terdiri dari 15 Menteri dengan tambahan 6 jabatan yang diperlakukan sebagai Menteri. Tulisan ini diperoleh dari sahabat saya di Amerika, tujuannya bukan sebagai referensi untuk penyusunan kabinet baru di Indonesia, akan tetapi hanya bertujuan , bila ada teman-teman yang akan ke Amerika dan kemudian kesulitan untuk mencari informasi tentang kabinetnya Obama, ya ini lah dia Menteri-menteri di kabinet baru era Presiden Barrack Hussein Obama.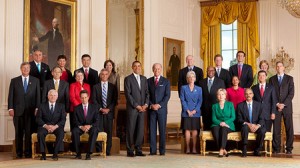 Sekedar penambah pengetahuan saja.